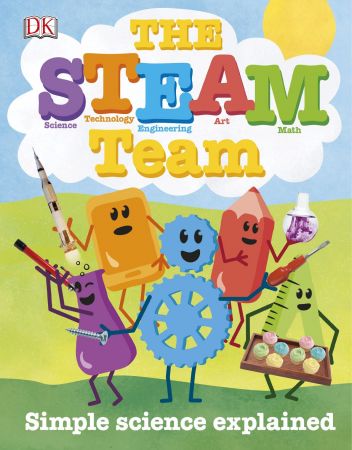 The STEAM Team: Simple Science Explained | English | June 5th, 2018 | ISBN: 146546851X | 82 pages | True PDF | 25.25 MB
The zany characters of the STEAM Team will guide kids ages 5-7 through this engaging, fact-packed book all about the key STEAM subjects: science, technology, engineering, art, and math.
This bright and cheery illustrated book for kids ages 5-7 breaks down STEAM subjects, like science and technology, into fun and easily understandable chunks. Join the STEAM Team to unravel the mysteries of the world: Find out how robots work, what a food chain is, where lightning comes from, how lungs allow you to breathe, and much more. The STEAM Team characters (Science, Technology, Engineering, Art, and Math) guide the reader through the book and are always on hand with tips, fun facts, and simple explanations. With pages covering living things, the human body, space, physics, geography, math, engineering, and chemistry, this book is a perfect introduction for kids starting to learn about science at school, or those who are just developing an interest in how the world works.

Code:
https://rapidgator.net/file/4300e01b73c6bda107d158fc10242be5/The_STEAM_Team_-_Lisa_Burke.pdf.html