Better Basketball - Better Shooting 2 (2008)
DVDRip | English | AVI/XVID 29.970 fps 1204 Kbps | 720x480 | MP3 128 Kbps 48.0 khz | 2 channels | 2.13 GB
Genre: Video Training
Better Shooting 2 will build a player's entire shot, from footwork to the finishing stroke. This is the only instructional DVD released by JJ Redick, perhaps the best shooter in basketball history. Learn JJ's shooting secrets in his 47-minute bonus section. Plus, he demonstrates throughout the DVD, along with many others. The lead instructor is Rick Torbett. Toward the end of his 25 years in coaching, Torbett's teams shot over 40% from the 3 in 3 consecutive seasons (a feat never accomplished by an American pro team), proving his techniques will work for all players in real games!
*A training regimen and chart are included with the DVD, geared to take the guesswork out of shot development.
*Footage from men's and women's international pro hoops is used to illustrate the video's techniques.
*An entire chapter dedicated to women, including an interview with WNBA star Shay Doron.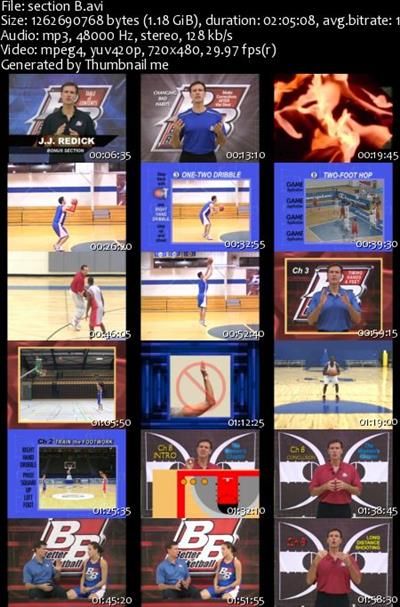 Link :
Code:
http://ul.to/xq6nqee6
http://ul.to/3ge52oq8
http://ul.to/r74enlr7
http://ul.to/fywvttdw
http://ul.to/rlkatp8t
http://ul.to/6g31a2fh
http://ul.to/6im9itgb
http://ul.to/bive2x9t