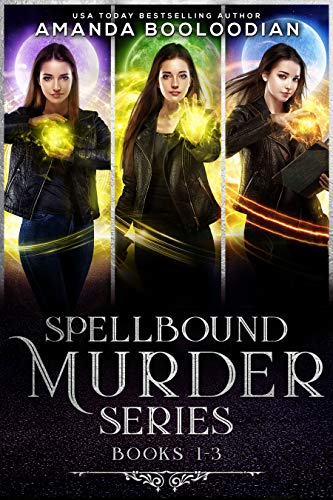 Spellbound Murder Complete Trilogy English | ASIN: B07MGP2MZY | 783 pages | 2018 | EPUB | 0.99 MB
The complete Spellbound Murder Trilogy! Three books in one!
Oathbound:
A predator stalks the supernatural community.
Mira is a talented witch, but gained a reputation for delving into dark power in her youth. In
order to help the police and keep the secret of their world, Mira once again finds herself using an enchantment with heavy karmic consequences.
Detective Ian Burke becomes saddled with "occult expert" Mira Owens. He's bound by a magical promise
and dropped into a mysterious society that he never knew existed. He's ready to fight like hell to break the spell and bring his partner, Gabriel, in on the secret.
Can Mira help find the killer and stop the murders without becoming the next
victim, or worse, exposing her people?
Grim Magic:
It's not a great time to be a witch.
The investigation takes an uncanny turn once magic users are targeted. Discovering Gabriel is supernatural should make working the
case easier. Instead, it's ripping apart his friendship with Ian, causing karma to tighten its noose tighter around Mira.
Gabriel is ticked off. He's compelled to track down Mira when she's in trouble and each time is a nagging reminder that
he's an angel. Telling Ian is out of the question, at least until he comes to terms with his winged half. But to track the missing witches, coming clean may be the only way forward.
Even with a guardian angel, keeping Mira alive long enough
to help the case is harder than they imagined.
Fallen Witch:
Shunned and ostracized Mira is alone in her own community.
Creeped out by her new bodyguards, Mira jumps at the first chance to get out of Emmit's apartment
and back on the case. Getting closer to Gabriel is an added benefit, even if he can't decide what he wants. While Gabriel and Emmit butt heads, Mira struggles to keep her bad karma in check. Getting someone killed is bound to leave permanent black
marks on her soul.
Gabriel is torn by wanting to keep Mira close to him and needing to keep her safe. When the enemy makes a bold move to take Mira, even Harker isn't able to protect her. Seeing the threats against Mira, Gabriel is faced with
the risk of becoming a fallen angel. He doesn't care if his wings turn black as night if it means he can save her.
Mira finds herself making a decision that effects all their lives. Voluntarily going into the Ether isn't the smartest move Mira
can make, but is it the right one?
Code:
https://rapidgator.net/file/9ce6f0cc28d3cea9b4d71d10530397c9/MM_B07MGP2MZY.epub.html