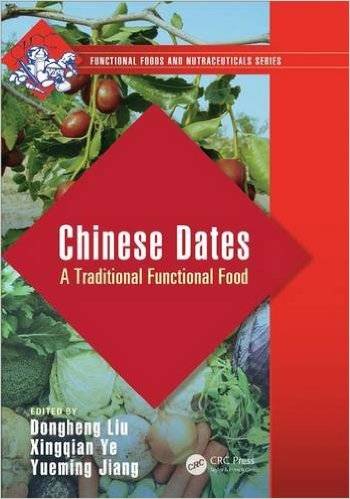 Chinese Dates: A Traditional Functional Food English | ISBN: 1498703585 | 2016 | 405 pages | PDF | 49 MB
Chinese Dates: A Traditional Functional Food delivers unique information on Chinese dates (jujubes) as typical ethical foods and traditional health-promoting foods. It conveys a better understanding of Asian food cultures and provides historical information in regard to traditional functional foods and their dietary applications. It discusses the health-promoting benefits of a wide variety of jujube fruits and covers different jujube products, such as jujube fruit juice and cakes. It also looks into the many kinds of jujube fruit-based medicated diets, describes innovative new processing technologies and novel jujube products, and examines ethnomedicinal uses, pharmacological activity, and phytochemical constitutes of jujubes.
The book's four sections and nineteen chapters provide information on Chinese date's origin, distribution, varieties, chemical composition, biochemical properties, traditional products and technology, innovative processing technology, food use, and health benefits. The first section explores the origin, distribution, germplasm, and growing conditions of Chinese dates. It also examines traditional jujube-based functional foods from a historical perspective.
The second section looks into the chemical and biochemical properties of Chinese dates along with their health benefits. Topics within this section include a review of the current knowledge of fruit composition; chemical, biological, and antioxidant properties of jujubes from different geographical regions; and a mathematical analysis of the relationship between the composition and bioactivities of jujube fruit harvested at different stages of ripeness. This section also explores ethnomedicinal uses and pharmacological activity, phytochemical constituents and health benefits, and polysaccharide composition.
Chinese date products and postharvest technology are covered in the third section, which includes a discussion of drying technology and postharvest treatments affecting storage quality. The fourth and final section deals with the Chinese date industry in various countries, including Australia, Turkey, Iran, and Romania.
Code:
https://rapidgator.net/file/4b4bfa5d3cf0f118792dab93df998145/MM_1498703585.pdf.html