09.11.2019, 05:45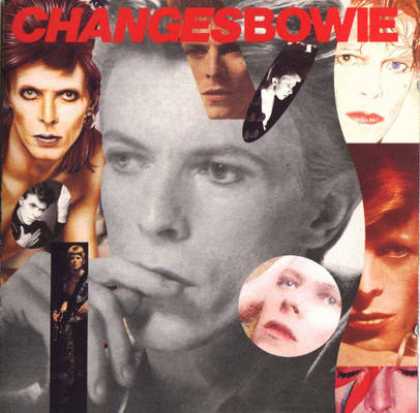 David Bowie (born David Robert Jones on 8 January 1947) is an English singer, songwriter, multi-instrumentalist, producer, arranger and audio engineer. Active in five decades of rock music, and frequently re-inventing his music and image, Bowie is widely regarded as an influential innovator, particularly for his work through the 1970s. Bowie has taken cues from a wide range of fine art, philosophy and literature. He is also a film and stage actor, music video director and visual artist.
Changesbowie is a compilation album by David Bowie, released in 1990 in the U.S. by Rykodisc and by EMI in the UK as part of Rykodisc's Bowie remastering program, to replace ChangesOneBowie. A double vinyl version, released simultaneously, added, in addition, "Starman" (following "Space Oddity"), "Life on Mars?" (following "The Jean Genie"), and "Sound and Vision" (following "Golden Years"). While the cover artwork was generally dismissed as amateurish ("a sixth-form cut 'n' paste collage", according to author David Buckley) the collection made #1 in the UK, giving Bowie his first chart-topping album since Tonight in 1984.
Format: Mp3 - 320 kps | Size: 174,5 Mb | Pass: hell
Track listing
01 Space Oddity (from Space Oddity, 1969)  5:16
02 John, I'm Only Dancing (from "John, I'm Only Dancing" single, 1972)  2:49
03 Changes (from Hunky Dory, 1971)  3:36
04 Ziggy Stardust (from Ziggy Stardust, 1972)  3:13
05 Suffragette City (from Ziggy Stardust, 1972)  3:28
06 The Jean Genie (from Aladdin Sane, 1973)  4:09
07 Diamond Dogs (from Diamond Dogs, 1974)  6:06
08 Rebel Rebel (from Diamond Dogs, 1974)  4:31
09 Young Americans (from Young Americans, 1975)  5:13
10 Fame '90 (Carlos Alomar, Bowie, John Lennon)  3:40
11 Golden Years (from Station to Station, 1976)  4:01
12 Heroes (Bowie, Brian Eno) (from "Heroes" single, 1977)  3:38
13 Ashes to Ashes (from Scary Monsters (and Super Creeps), 1980)  4:25
14 Fashion (from Scary Monsters (and Super Creeps), 1980)  4:49
15 Let's Dance (from "Let's Dance" single, 1983)  4:10
16China Girl (Bowie, Iggy Pop) (from "China Girl" single, 1983)  4:17
17 Modern Love (from "Modern Love" single, 1983)  3:59
18 Blue Jean (from "Blue Jean" single, 1984)  3:10
Rapidgator
DOWNLOAD
Just Say Thanks!