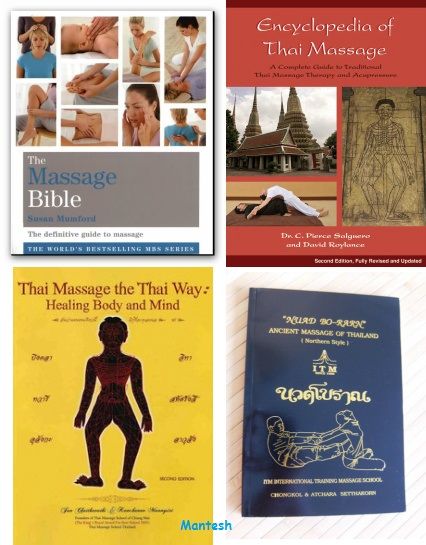 The Massage Bible The Definitive Guide l 129 MB
The Massage Bible: The Definitive Guide to Soothing Aches and Pains
Publisher: Sterling
2009
Susan Mumford
Language: English
ISBN-10: 1402770014
ISBN-13: 978-1402770012
400 Pages
PDF
60.1 MB
From Chinese massage to Shiatsu to Indian head massage, this lavishly illustrated "bible" presents all the techniques needed to master the basics. Every spread features large and easy-to-follow photos, while the text guides beginners on what pressure to exert, what part of the hand makes contact with the body, and exactly what to do-whether they're feathering the back, working on the neck and scalp, or performing a sequence on the arms and hands. In addition to holistic and sports massages, there are suggestions for special situations (including massaging a baby); advice on massages to relieve common ailments; and lifestyle tips.
Encyclopedia of Thai Massage: A Complete Guide to Traditional Thai Massage Therapy and Acupressure
Publisher: Findhorn Press; Second Edition, Second edition edition (December 1, 2011)
Language: English
ISBN-10: 1844095630
ISBN-13: 978-1844095636
y C. Pierce Salguero , David Roylance
as a therapeutic medical science. Presenting detailed analysis of each step in a Thai massage routine, the history, spiritual traditions, and ethical codes are offered in an engaging, informal style. Numerous photographs and diagrams illustrate the variety of techniques used, and examples of routines for treating specific disorders are discussed. Updated with new layout, photos, and expanded text, this exhaustive handbook is complete with a section on the main energy meridians and diagrams of acupressure points, making it the perfect tool to accompany anyone studying this popular healing modality.
Thai Massage the Thai Way: Healing Body and Mind
Publisher: Thai Massage Book Press (2005)
ISBN-10: 9749305760
ISBN-13: 978-9749305768
Jan Chaithavuthi and Kanchanoo Muangsiri
Thai Massage is the touch that enhances health, happiness, and wholeness--and with more than 150 expertly demonstrated sequences unfolding on these pages, everyone can enjoy its benefits.
Nuad Bo-Rarn" Ancient Massage of Thailand (Northern Style) (Thai Massage) Paperback
Chongkol Setthakorn , Atchara Setthakorn , Arthur Lambert
Publisher: ITM International Training Massage School - Chiang Mai; 4th edition (2005)
ISBN-10: 9749311590
ISBN-13: 978-9749311592
Ancient Thai Massage "Nuad Bo-Rarn" is unique form of body therapy that incorporates Hatha Yoga and acupressure. This particular form of body work dates back at least 2,000 years. This book introduces a complete set of Thai massage in Front, Back, and Sitting positions. There are 134 positions, each with diagrams, photographs, and descriptions. This book is used at ITM International Training Massage School, Chiang Mai, Thailand and other ITM schools worldwide.
Link :
Code:
http://ul.to/rgl7ab8d