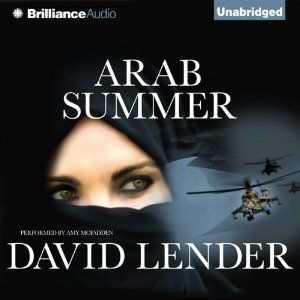 David Lender - Arab Summer (Sasha Del Mira #3)
Unabridged AudioBook | 2013 | Genre: Crime/Thriller | English | ISBN-13: 9781469276113 | M4B 64Kb | Length: 8 hrs and 24 mins | 229.39 MB

When a Muslim terrorist group called the al-Mujari kills Sasha Del Mira's husband, the former CIA agent comes out of retirement to avenge his death and help stop an Arab Spring uprising intended to overthrow the Saudi government.
Out for revenge, Sasha is determined to hunt down the leader of the al-Mujari, a man named Saif Ibn Mohammed al-Aziz. He was once Sasha's ally in Saudi Arabia - and her lover. Saif's plot to overthrow the Saudi royals by using religious prophecies leads Sasha and her black-ops team to Islam's holiest site, the Grand Mosque in Mecca. Can Sasha stop a brutal, power-hungry terrorist and save the Middle East from a holy war? Or will she be forced to become the madman's wife?
The third part of the Sasha Del Mira series, Arab Summer is an intense, intricate thriller that scrutinizes the depths of revenge, redemption, and the power of love.
Download Link
Code:
http://rapidgator.net/file/88797c8a05e5c74e6eaa87995e6de269/Arab.Summer.part1.rar.html
http://rapidgator.net/file/80febb5c3d40cd243d0ee9d0f23a1e0d/Arab.Summer.part2.rar.html
http://rapidgator.net/file/3b8002d23f641c3970f6ac288c44d1eb/Arab.Summer.part3.rar.html
Code:
http://uploaded.net/file/avck0hzt/Arab.Summer.part1.rar
http://uploaded.net/file/syls4d4d/Arab.Summer.part2.rar
http://uploaded.net/file/wizuladb/Arab.Summer.part3.rar