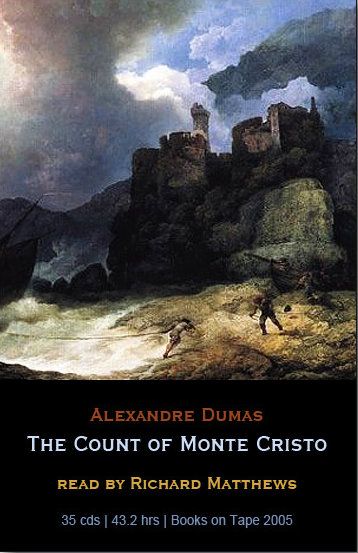 The Count of Monte Cristo by Alexandre Dumas Audiobook l 1.26 GB
Literary MP3/Variable English
Narrated by Richard Matthews
35 cds | 43.2 hrs | unabridged | Books-on-Tape 2005
Specifications | Encoding
Read by Richard Matthews | 35 cds | 43.2 hrs | unabridged |
Books on Tape | 2005 | isbn 141593200X |
119 mp3 | 1292.4 mb | vbr 69.7 kbps avg | 44100 2ch.js | runtime 43:17:24 |
SoX 561 >> 119 | lame -V 6 | mp3g.trk 91 dB
The Count of Monte Cristo (French: Le comte de Monte Cristo) is a classic adventure novel by Alexandre Dumas, p鋨e. It is often considered, along with The Three Musketeers, as Dumas' best work, and is frequently included on lists of the best novels of all time. The writing of the work was completed in 1844. According to the introductory biography in the Penguin Books publication of the novel, Dumas collaborated with others such as Auguste Maquet in the writing to suggest plots and/or historical background for the novel.
The story takes place in France, Italy, and islands in the Mediterranean during the historical events of 1815?838 (from just before the Hundred Days through the reign of Louis-Philippe of France). It is primarily concerned with themes of justice, vengeance, mercy and forgiveness, and is told in the style of an adventure story.
Dumas got the idea for The Count of Monte Cristo from a true story, which he found in a memoir written by a man named Jacques Peuchet. Peuchet related the story of a shoemaker named Pierre Picaud, who was living in Paris in 1807. Picaud was engaged to marry a rich woman, but four jealous friends falsely accused him of being a spy for England. He was imprisoned for seven years. During his imprisonment a dying fellow prisoner bequeathed him a treasure hidden in Milan. When Picaud was released in 1814, he took possession of the treasure, returned under another name to Paris and spent ten years plotting his successful revenge against his former friends.
Set against the turbulent years of the Napoleonic era, Alexandre Dumas's thrilling adventure story is one of the most widely read romantic novels of all time. In it the dashing young hero, Edmond Dant鋊, is betrayed by his enemies and thrown into a secret dungeon in the Chateau d'If -- doomed to spend his life in a dank prison cell. The story of his long, intolerable years in captivity, his miraculous escape, and his carefully wrought revenge creates a dramatic tale of mystery and intrigue and paints a vision of France -- a dazzling, dueling, exuberant France -- that has become immortal.
Romantic novel by Alexandre Dumas pere, published in French as Le Comte de Monte-Cristo in 1844-45. The hero of the novel, Edmond Dantes, is a young sailor who is unjustly accused of aiding the exiled Napoleon. As punishment he is sentenced to life imprisonment in a French island fortress. After 14 years, Dantes makes a daring escape by taking the place of a dead companion; he is sewn into a burial shroud and thrown into the sea. Having learned from his dead prison mate of a vast treasure on the island of Monte-Cristo, Dantes eventually makes his way there to uncover and claim it. Adopting the persona of the Count of Monte Cristo, Dantes becomes a powerful, shadowy figure who eventually avenges himself on those who wronged him.
Contents | Track titles
0100 _ Books on Tape _ The Count of Monte Cristo _ Alexandre Dumas
0101 _ Ch 01 _ The Arrival at Marseilles
0105 _ Ch 02 _ Father and Son
0108 _ Ch 03 _ The Catalans
0112 _ Ch 04 _ The Plotters
0115 _ Ch 05 _ The Betrothal Feast
0207 _ Ch 06 _ The Deputy Procureur
0212 _ Ch 07 _ The Examination
0301 _ Ch 08 _ The Chateau d'If
0305 _ Ch 09 _ The Evening of the Betrothal
0307 _ Ch 10 _ The Little Room in the Tuileries
0311 _ Ch 11 _ The Corsican Ogre
0315 _ Ch 12 _ Father and Son
0401 _ Ch 13 _ The Hundred Days
0404 _ Ch 14 _ In the Dungeons
0408 _ Ch 15 _ Number 34 and Number 27
0415 _ Ch 16 _ A Learned Italian
0506 _ Ch 17 _ In the Abbe's Cell
0517 _ Ch 18 _ The Treasure
0607 _ Ch 19 _ The Death of the Abbe
0612 _ Ch 20 _ The Cemetery of the Chateau d'If
0614 _ Ch 21 _ The Isle of Tiboulen
0703 _ Ch 22 _ The Smugglers
0707 _ Ch 23 _ The Isle of Monte Cristo
0711 _ Ch 24 _ The Search
0715 _ Ch 25 _ At Marseilles Again
0802 _ Ch 26 _ The Inn of Pont Du Gard
0810 _ Ch 27 _ The Tale
0817 _ Ch 28 _ The Prison Registers
0904 _ Ch 29 _ The House of Morrel and Son
0909 _ Ch 30 _ The Fifth of September
0916 _ Ch 31 _ Italy _ Sinbad the Sailor
1010 _ Ch 32 _ The Awakening
1013 _ Ch 33 _ Roman Bandits
1106 _ Ch 34 _ Vampa
1110 _ Ch 35 _ The Colosseum
1206 _ Ch 36 _ La Mazzolata
1213 _ Ch 37 _ The Carnival at Rome
1304 _ Ch 38 _ The Catacombs of Saint Sebastian
1311 _ Ch 39 _ The Rendezvous
1315 _ Ch 40 _ The Guests
1401 _ Ch 41 _ The Breakfast
1410 _ Ch 42 _ The Presentation
1415 _ Ch 43 _ Monsieur Bertuccio
1501 _ Ch 44 _ The House at Auteuil
1504 _ Ch 45 _ The Vendetta
1513 _ Ch 46 _ The Rain of Blood
1604 _ Ch 47 _ Unlimited Credit
1611 _ Ch 48 _ The Dappled Grays
1618 _ Ch 49 _ Ideology
1706 _ Ch 50 _ Haydee
1708 _ Ch 51 _ The Morrel Family
1712 _ Ch 52 _ Pyramus and Thisbe
1803 _ Ch 53 _ Toxicology
1811 _ Ch 54 _ Robert Le Diable
1903 _ Ch 55 _ A Talk About Stocks
1908 _ Ch 56 _ Major Cavalcanti
1912 _ Ch 57 _ Andrea Cavalcanti
2002 _ Ch 58 _ At the Gate
2007 _ Ch 59 _ M. Noirtier de Villefort
2011 _ Ch 60 _ The Will
2015 _ Ch 61 _ The Telegraph
2103 _ Ch 63 _ The Bribe
2107 _ Ch 63 _ Shadows
2110 _ Ch 64 _ The Dinner
2114 _ Ch 65 _ The Beggar
2203 _ Ch 66 _ A Conjugal Scene
2207 _ Ch 67 _ Matrimonial Plans
2211 _ Ch 68 _ The Office of the Procureur Du Roi
2216 _ Ch 69 _ A Summer Ball
2302 _ Ch 70 _ The Inquiry
2305 _ Ch 71 _ The Ball
2308 _ Ch 72 _ Bread and Salt
2310 _ Ch 73 _ Madame de Saint Meran
2315 _ Ch 74 _ The Promise
2410 _ Ch 75 _ The Villefort Family Vault
2413 _ Ch 76 _ A Signed Statement
2503 _ Ch 77 _ Progress of M Cavalcanti the Younger
2507 _ Ch 78 _ Haydee
2601 _ Ch 79 _ Yanina
2609 _ Ch 80 _ The Lemonade
2614 _ Ch 81 _ The Accusation
2701 _ Ch 82 _ The Room of the Retired Baker
2708 _ Ch 83 _ The Burglary
2713 _ Ch 84 _ The Hand of God
2716 _ Ch 85 _ Beauchamp
2803 _ Ch 86 _ The Journey
2807 _ Ch 87 _ The Trial
2812 _ Ch 88 _ The Challenge
2814 _ Ch 89 _ The Insult
2902 _ Ch 90 _ Mercedes
2905 _ Ch 91 _ The Meeting
2909 _ Ch 92 _ The Mother and Son
2912 _ Ch 93 _ The Suicide
3001 _ Ch 94 _ Valentine
3004 _ Ch 95 _ The Confession
3008 _ Ch 96 _ The Father and Daughter
3011 _ Ch 97 _ The Contract
3101 _ Ch 98 _ The Departure for Belgium
3104 _ Ch 99 _ The Hotel of the Bell and Bottle
3109 _ Ch 100 _ The Law
3113 _ Ch 101 _ The Apparition
3201 _ Ch 102 _ The Serpent
3203 _ Ch 103 _ Valentine
3205 _ Ch 104 _ Maximilian
3209 _ Ch 105 _ Danglars' Signature
3213 _ Ch 106 _ The Cemetery of the Pere La Chaise
3303 _ Ch 107 _ The Division
3308 _ Ch 108 _ The Lions' Den
3311 _ Ch 109 _ The Judge
3401 _ Ch 110 _ The Assizes
3405 _ Ch 111 _ Expiation
3408 _ Ch 112 _ The Departure
3410 _ Ch 113 _ The House in the Allees de Meillan
3501 _ Ch 114 _ Peppino
3505 _ Ch 115 _ Luigi Vampa's Bill of Fare
3507 _ Ch 116 _ The Pardon
3509 _ Ch 117 _ The Fifth of October
3515 _ Books on Tape _ The Count of Monte Cristo _ Alexandre Dumas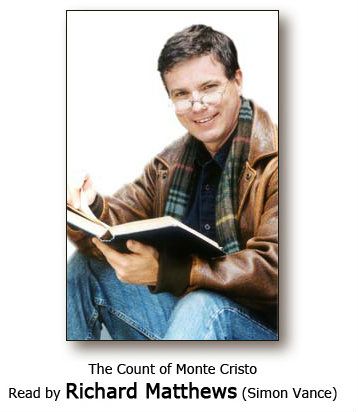 Link :
Code:
http://ul.to/sq3anayu
http://ul.to/0heacpdg
http://ul.to/pkinih6f
http://ul.to/4rc48vnb
http://ul.to/wixabk9q
http://ul.to/agv6bfxu
http://ul.to/uekyazbo