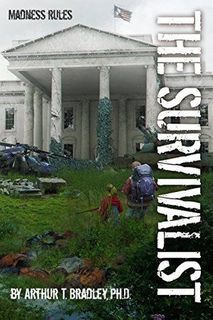 Arthur T. Bradley - Madness Rules (The Survivalist #4)
Unabridged AudioBook | 2015 | Genre: Science Fiction | English | ASIN: B00SX8ZT66 | MP3 128Kb | Length: 7 hrs and 55 mins | 436.9 MB

The Survivalist (Madness Rules) is the fourth book in Dr. Bradley's Survivalist Series. (Series Order: Frontier Justice, Anarchy Rising, Judgment Day, Madness Rules, Battle Lines - coming soon).
Description: Few heroes remain in the apocalyptic wasteland of the United States. Deputy Marshal Mason Raines is one such hero. Still reeling from the death of his beloved, he is recruited to confront a band of ruthless lawmen. Only as bodies begin to pile up, does he question whether his latest mission was less about justice and more about revenge.
Meanwhile, Tanner and Samantha travel south toward Mount Weather for a long overdue reunion. When Samantha falls ill, Tanner is forced to compete in a brutal fight club to secure medical care. After discovering her mother's fate, Samantha insists on a risky detour to the nation's capital. If they are to have any chance of making it out alive, they must delve into the bowels the city to discover a closely guarded secret.
After the attack on President Rosalyn Glass, Lincoln Pike finally seizes the reins of power. With hopes of returning the country to greatness, he initiates sweeping measures to rebuild colonies, establish a gold-backed currency, and gain complete control of the military. Little do others realize that his inability to cope with a devastating loss has started him down a treacherous path toward madness.
Download Link
Code:
http://rapidgator.net/file/8e8236df3bfebb9fda1e7342a6ca833b/Madness.Rules.part1.rar.html
http://rapidgator.net/file/24ca3a847df687259332203cb673bc58/Madness.Rules.part2.rar.html
http://rapidgator.net/file/34e4da4dde1d025760e698ae54236c01/Madness.Rules.part3.rar.html
http://rapidgator.net/file/971e1cb6465ffda09b4f70fea913abe4/Madness.Rules.part4.rar.html
http://rapidgator.net/file/2a801003f714b037c83882ddc65e8c0a/Madness.Rules.part5.rar.html
Code:
http://uploaded.net/file/7t7t3gq0/Madness.Rules.part1.rar
http://uploaded.net/file/z4lhnp5z/Madness.Rules.part2.rar
http://uploaded.net/file/dy7rqlwk/Madness.Rules.part3.rar
http://uploaded.net/file/y9p2oqd4/Madness.Rules.part4.rar
http://uploaded.net/file/6ulrl235/Madness.Rules.part5.rar