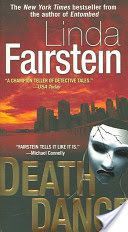 Linda Fairstein - Death Dance (Alexandra Cooper #8)
Unabridged AudioBook | 2007 | Genre: Crime/Thriller | English | ISBN-13: 9780743482288 | MP3 128Kb | Length: 11 hrs and 30 mins | 632.62 MB

Once again Linda Fairstein uses her experience as Manhattan's leading DA to create a tantalyzing web of intrigue, betrayal and murder. Teaming up with longtime friends and colleagues, Mike Chapman and Mercer Wallace, Alex Cooper investigates the disappearance of a world-famous dancer, who has vanished from the Metropolitan Opera House. Drawn behind the scenes of New York's theatrical community, the team is haunted by ghosts of the dramatic old theatres - and from their own pasts. At the same time, Alex and Mercer are trying to collar a doctor who's been using his extensive knowledge of and access to drugs to overpower women before assualting them. A spell-binding thriller combining the unique history of New York with fresh insight into the latest forensic techniques.
Download Link
Code:
http://rapidgator.net/file/3382cf0ed5b29063eb153c12c0aead5e/Death.Dance.part1.rar.html
http://rapidgator.net/file/27fca49818e359dde98341bb929cba26/Death.Dance.part2.rar.html
http://rapidgator.net/file/1eadb6b02a06885292b7aa6c44c460c3/Death.Dance.part3.rar.html
http://rapidgator.net/file/bb283b0fac20118d627967bfbf072230/Death.Dance.part4.rar.html
Code:
http://uploaded.net/file/hagnsi95/Death.Dance.part1.rar
http://uploaded.net/file/glalqbg1/Death.Dance.part2.rar
http://uploaded.net/file/it5dva68/Death.Dance.part3.rar
http://uploaded.net/file/n3gxd2z0/Death.Dance.part4.rar