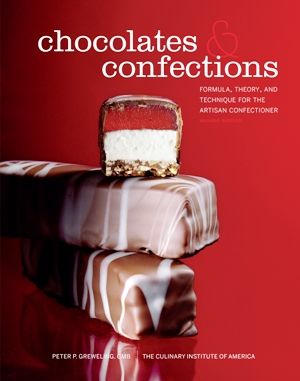 hocolates and Confections - Formula, Theory, and Technique for the Artisan Confectioner (2nd Ed)
by Peter P. Greweling and The Culinary Institute of America (CIA)
Wiley | November 2012 | ISBN-10: 0470424419 | True PDF | 544 pages | 148 mb
The comprehensive guide to chocolate and candy making for professionals and serious home cooks
When it was first published in 2008, Chocolates and Confections won the IACP Award and almost instantly became the bible of artisan confectionery. This remarkable and comprehensive guide from master confectioner Peter Greweling of The Culinary Institute of America offers a complete and thorough explanation of the ingredients, theories, techniques, and formulas needed to create every kind of chocolate and confection. As interest in both professional and home chocolate- and candy-making continues to grow, this edition features new formulas, photographs, and illustrations to better meet the needs of confectioners.
This edition is beautifully illustrated throughout with 250 full-color photographs of ingredients, step-by-step techniques (from tempering chocolate to candying fruit), and finished chocolates and confections. It also includes helpful charts that pinpoint common candy-making pitfalls and how to avoid them, guides to the best quality chocolate and other all-natural confectionery ingredients, and information on packaging and storage.
You'll find chapters on every confectionery type, including cream ganache, butter ganache, noncrystalline sugar confections, crystalline sugar confections, jellies, aerated confections, and nut centers, as well as an all-new chapter on American-style layered candy bars. The book includes nearly 200 formulas for classic confections like marzipan, as well as contemporary variations such as Madras, a coconut curry butter ganache. From truffles, hard candies, brittles, toffee, caramels, and taffy to butter ganache confections, fondants, fudges, gummies, candied fruit, marshmallows, divinity, nougat, marzipan, gianduja, and rochers, Chocolates and Confections demonstrates how to produce world-class confections and provides the in-depth background information candy makers need to formulate their own signature creations.
- Revised to include 30 percent new recipes and formulas, more than 250 photos, and 27 illustrations
- Features new sections on opening a professional bakeshop, packaging and marketing, and American-style layered candy bars
- Written by Certified Master Baker Peter Greweling, one of the world's top names in confections, and author of Chocolates and Confections at Home with The Culinary Institute of America, from Wiley
About the Author
Peter P. Greweling, the award-winning author of Chocolates and Confections: Formula, Theory, and Technique for the Artisan Confectioner, is a professor of baking and pastry arts at The Culinary Institute of America, a Certified Master Baker, and a Certified Hospitality Educator.
CONTENTS
ACKNOWLEDGMENTS vi
INTRODUCTION vii
1 Confectionery Ingredients and Equipment 1
2 Cacao and Chocolate 21
3 Packaging and Storage 39
4 Fundamental Techniques 53
5 Cream Ganache 93
6 Butter Ganache 185
7 Noncrystalline Confections 215
8 Crystalline Confections 267
9 Jellies 315
10 Aerated Confections 355
11 Nut Centers 401
12 Candy Bars 455
APPENDIX A: SUGAR DENSITIES 513
APPENDIX B: CONFECTIONERY WORK AREAS 515
GLOSSARY 518
REFERENCES 524
INDEX 525

Link :
Code:
http://ul.to/kx5rfee1
http://ul.to/ulrqlx4k