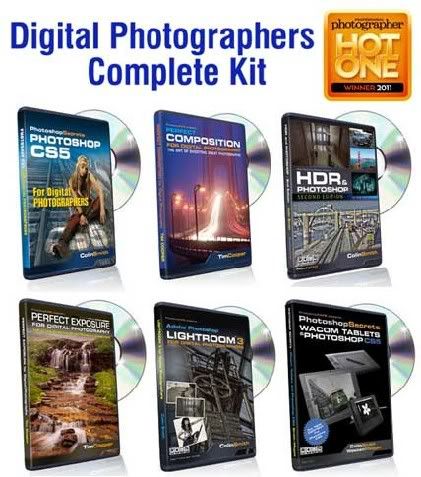 Digital Photographers Complete Kit 6 DVDRip Tutorials
English | 2011 | AVI | eLearning | 4.8GB
Get ready for a learning adventure like never before. The best just got a whole lot better! The best training series of videos for becoming a better photographer!
* Photoshop CS5 For Digital Photographers
* Lightroom 3 For Digital Photographers
* Perfect Exposure (Zone System For Digital Photographers)
* Perfect Composition for Digital Photographers
* HDR and Photoshop
* Wacom Tablets and Photoshop CS5
Do you ever get frustrated with tutorials that don?t work in the real world? We show you multiple methods so that you can choose the one that?s best for your photo. These are not like other training videos. The techniques aren?t from a classroom bubble. These are what work today in the real-world. There are no monotone presentations with boring uninspiring images. You?ll learn tons, you?ll have fun and most of all you?ll be inspired.
* Photoshop CS5 For Digital Photographers
This ground-breaking 5th release of Photoshop Secrets for Digital Photographers, will blow your socks off! Colin has pulled out all the stops. All the workflows have been fine-tuned to take advantage of the new features in Photoshop CS5. Don?t just learn the features, integrate the skills into your every day workflow.
* Lightroom 3 For Digital Photographers
This is the most comprehensive video on the market for Lightroom. Learn how to import, organize, develop and output all your captures with effortless ease. Enjoy in-depth coverage, pro techniques, secret tips and Colin?s way of breaking down even the most complex tasks into quick and easy to understand techniques. You?ll spend less time in front of the computer and more time behind the camera!
* Perfect Exposure (Zone System For Digital Photographers)
You?ll never shoot another photograph in auto-mode again! Learn how to shoot great photos! This video will change the way you use your camera! Understanding the zone system is essential for capturing great photos. Ones? that look the way you always wanted. If you just leave metering to the camera, your photos will look dull and flat. Start getting your exposures right and your photographs will be crisp and full of detail and depth. Become a better photographer? a much better photographer, in just over an hour! You can even use your cameras built in meter. Tim makes it so easy, you?ll laugh.
* Perfect Composition for Digital Photographers
Stop taking snapshots, capture photographs! Learn how to see and shoot! Have you ever marveled at the work of skilled photographer?s and thought, ?I wish I was talented like like that?? Guess what! All of the superstars started where you are. These things can be taught! This video teaches you how to transform your photography! Your images will instantly become more powerful and engaging. In addition to teaching you the rules of composition, Tim shows you why the rules work, and when to break them! This video takes you through the steps of seeing, designing, and executing the final composition. Learn how your shutter speeds, f-stops, and lens length are crucial to composing your photo. Never take a boring shot again.
* HDR and Photoshop
Learn how to extend the dynamic range of any Photograph! Have you ever looked at a stunning HDR image and wondered, ?how did they do that?? Wonder no more! This video will serve as your easy to follow and informative guide to the world of HDR. You will be getting results better than you dreamed of with maximum ease. Colin explains in Plain-English all you need to get going in HDR. All new and expanded for Photoshop CS5 and Photomatix 4.
* Wacom Tablets and Photoshop CS5
This is the 5th edition of THE best-selling video on Wacom tablets and Photoshop. The most complete training on the Wacom Tablet and Adobe Photoshop ever! This fully updated video will show you how to unleash the power and creativity that only comes from a pressure-sensitive tablet. Set up your tablet correctly and stop working like a mouse user in Photoshop. Two of the Top instructors in the industry combine their talents to bring you a video that will totally change the way you approach graphics on your computer. If you currently own, or are considering a pen tablet or Cintiq, this video is one of the best investments you can make. Stop mousing around and finally take control of your Wacom Tablet and Photoshop CS5.
Link :
Code:
http://ul.to/kobrzzso
http://ul.to/56rplhxn
http://ul.to/x4zj0ihe
http://ul.to/n68ofhty
http://ul.to/03f7d52b
http://ul.to/beep4hwd
http://ul.to/aq4wzqyq