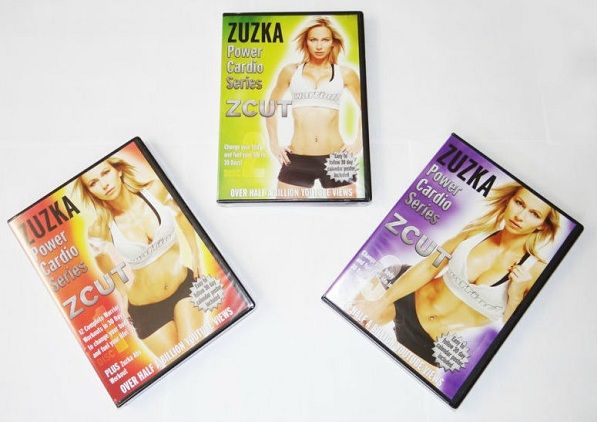 Zuzka - ZCUT Power Cardio Series (3 DVDs Set)
English | AVI | 720 x 400 | XviD ~1499 Kbps | 23.976 fps
MP3 | 128 kbps | 48.0 KHz | 2 channels | 01:23:28 + 01:02:24 + 01:09:47 | 2.58 GB
Zuzka leads the ZCUT series by motivating viewers through a month long workout calendar that utilizes the 12 unique workouts that are included on the 3 DVDs. Each of the 12 short, intense, fat shredding workouts are based on her successful YouTube format that has helped millions achieve the abs and body of their dreams.
ZCUT leads my fans through a fast body changing program with short, under twenty minute workouts that are based on the actual workouts I use to create my body," said Zuzka Light. "I never workout longer than 20 minutes - its not necessary, especially if you do the type of workouts we have put on these DVDs. YouTube has allowed me to reach a worldwide audience and now these cardio DVDs give my viewers a 30 day system that will work for anybody and is very affordable!
Disc One covers workouts 1 - 4 and kicks your butt with exercises like Burpees, Jump Tucks, Kick Ups and even introduces you to Tabata Training. Tabata training falls under the category of high intensity interval training or (HIIT). These are short intense workouts are designed to stimulate fat loss. When you get into Zuzka's Time Challenges, trust me, you'll be breaking a sweat!
Disc Two gives you workouts 5- 8 and takes you through a series of fat melting, heart pounding movements like High Knee Chair Toe Touches, Superheros, and Reptiles. Don't be scared by the names of the exercises! I want to reiterate, that these are all workouts you can do at home! No equipment is needed, and there are not any complicated choreographed routines to memorize.
Disc Three guides you through workouts 9- 12, and once you hit disc 3 you've more than earned the title of one of Zuzka's WarriorZ! Congratulations! But there's no time to rest. you're on your way to Mountain Climbers, Competition Burpees, and Pike Jumps. not to mention a slimmer sexier you!
Each of the 3 DVD's introduce you to your workouts with a Warm Up routine, and each comes with it's own Bonus Ab Workout!
You may know her as co-founder of BodyRock.tv, but Zuzka Light (aka Zuzana Light) is taking the internet by storm on her own as one of America's Hottest Online Fitness Personalities! Her website is packed full of free weekly workout videos and tons of exercise, fitness and nutrition tips. but it's her newly released ZCUT Power Cardio Series that's really creating a buzz! It recently caught my attention as one of the "hottest sellers" on Amazon, so for an affordable $15.99 I ordered a set to see what all the hype is about. If you're looking for a great at-home-workout that's easy to learn, and more importantly, easy to commit to.. then ZCUT is for you! Your goal is to complete one workout per day for a total of 12 weeks.
Link :
Code:
http://ul.to/1zed04av
http://ul.to/dgvcm4ve
http://ul.to/8f6w3a3l
http://ul.to/82gbmps6
http://ul.to/shuxxgn1
http://ul.to/i1i65ofk