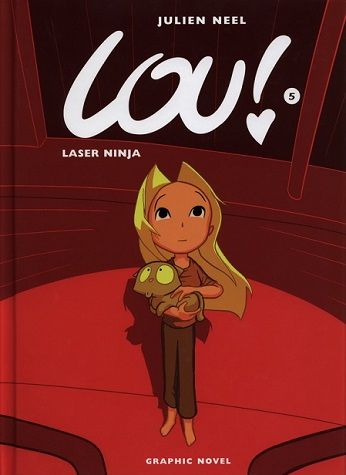 Lou! Comics l 356.22 MiB
This comic is a great book for all a ages. The first 3 books are aimed at 9-12 year olds, and book 4-5 is 12+.
Follow exuberant Lou from tweendom through teendom, along with Cat (a cat who appears at the window one day), Emma (Lou's videogame-obsessed mother), Lou's crush Tristan, BFF Mina, a cranky (but loving) grandparent, and Richard, the cute hipster Lou wants to set up with her mom. With short, punchy chapters, endearing characters, and humorous storylines, Lou! is a kid-friendly, lighthearted series that readers can easily eat up.
Volume 1, Journal infime, received the Youth Award for ages 9 to 12 at the Angoulême Festival in 2005. Volume 5, Laser Ninja, won the award for best youth comic at the Angoulême Festival in 2010.
Lou! 01 - Diary Dates:
Meet Lou! She's hardly your average 12 year old. Her handmade outfits are the talk of the school (even though they make the other girls laugh), and her homework gets a lot of attention from her teachers (even though it lands her in the shrink's office). Home sweet home is an apartment she shares with her couch-potato mom and a cat named Cat. At least she can pour her heart out to her best friend, Mina, and scribble her dreams in her secret diary.
Lou! 02 - Summertime Blues:
Now that she's almost a teenager, Lou's life is becoming even more interesting. Playing with dolls has lost its appeal and the boy across the street gets cuter every day. The new neighbor, Richard, just might be the perfect match for Lou's mom. But will Lou or her mom ever pluck up their courage and actually talk to their crushes?
Lou! 03 - Down in the dump:
Lou's school year is off to a rocky start. Her BFF, Mina, won't speak to her, but a new friend, Mary Emily, never shuts up. Lou's mom and her new boyfriend are madly in love, but all their smooching is starting to get on Lou's nerves. Meanwhile, a wrecking ball is smashing down the apartment that used to belong to her beloved Tristan. Lou still has a friend in Paul, if she can just work up the courage to write him a letter. Life was a lot easier when dressing up in her pink princess gown and going to the park for ice cream would solve any problem. Is it any wonder that Lou is down in the dumps?
Lou! 04 - Romances:
Meet the new Lou! She's thirteen years old, so it's time to stop mooning over the guy who used to be the guy next door. Instead she's heading for a dreamy seaside village with her friends Mina, Mary Emily, and Karen. Let the boy hunt begin! But the first cute boy she spots is Tristan, the guy next door himself! It's the perfect opportunity to rekindle their romance. So why is Lou giving Tristan the cold shoulder? And why can't Tristan strike up a conversation that doesn't end with his foot in his mouth? It doesn't help that Mary Emily is making the moves on Tristan herself. And things get really messy when Lou's mom shows up with a surprise: Lou's old pal Paul! But Paul is just a friend, nothing more, right?
Lou! 05 - Laser Ninja:
Fire! Their whole world goes up in smoke. Mum, boyfriend and daugther gamely face the future - but that will not stop life's complications - each mut cope in their own way: escape, reminiscences, snacking. Until Lou gets her hands on Mum's diary...
Link :
Code:
http://ul.to/yit4ddwq
http://ul.to/j5m5un5j
http://ul.to/mndy1p3w
http://ul.to/cbh6sror