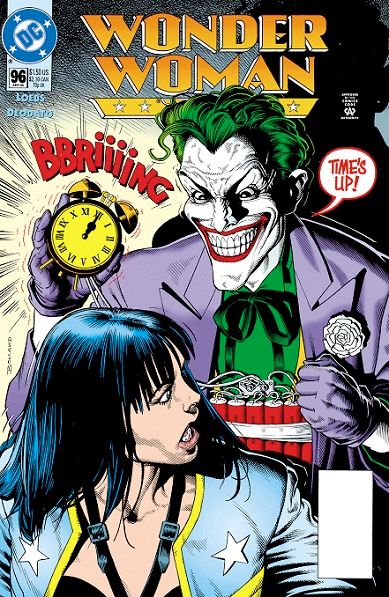 Wonder Woman Comics Complete l 601.81 MB
Mike Deodato draws hot women. In fact, I'd say he almost singe-handedly sparked the "Bad Girls" trend followed by some comic buyers & publishers in the mid-1990s.
These are the recent high-quality digital releases from Tithe-Empire of the end of the 3-year William Messner-Loebs Wonder Woman run, on which Deodato got his big break. Deodato did not draw #86-89, but were included by Tithe. I did have to find an older digital release (from Zoom-Empire) of #0, and a lower-quality #1,000,000.
The reading order is #85-90, #0, and #91-100. The #1,000,000 issue is years later & relatively unrelated to the rest. Comic Vine says that issue has a Deodato cover, and although it's uncredited, I agree.
Wonder Woman 000 (1994) (Digital) (ZOOM-Empire).cbz 17 MB
Wonder Woman v2 085 (1987-2006) (digital) (Tithe-Empire).cbr 39 MB
Wonder Woman v2 086 (1987-2006) (digital) (Tithe-Empire).cbr 27 MB
Wonder Woman v2 087 (1987-2006) (digital) (Tithe-Empire).cbr 29 MB
Wonder Woman v2 088 (1987-2006) (digital) (Tithe-Empire).cbr 29 MB
Wonder Woman v2 089 (1987-2006) (digital) (Tithe-Empire).cbr 37 MB
Wonder Woman v2 090 (1987-2006) (digital) (Tithe-Empire).cbr 45 MB
Wonder Woman v2 091 (1987-2006) (digital) (Tithe-Empire).cbr 29 MB
Wonder Woman v2 092 (1987-2006) (digital) (Tithe-Empire).cbr 29 MB
Wonder Woman v2 093 (1987-2006) (digital) (Tithe-Empire).cbr 27 MB
Wonder Woman v2 094 (1987-2006) (digital) (Tithe-Empire).cbr 29 MB
Wonder Woman v2 095 (1987-2006) (digital) (Tithe-Empire).cbr 34 MB
Wonder Woman v2 096 (1987-2006) (digital) (Tithe-Empire).cbr 36 MB
Wonder Woman v2 097 (1987-2006) (digital) (Tithe-Empire).cbr 33 MB
Wonder Woman v2 098 (1987-2006) (digital) (Tithe-Empire).cbr 37 MB
Wonder Woman v2 099 (1987-2006) (digital) (Tithe-Empire).cbr 35 MB
Wonder Woman v2 100 (1987-2006) (digital) (Tithe-Empire).cbr 71 MB
Wonder Woman v2 1000000.cbr 18 MB
Link :
Code:
http://ul.to/0112o0pg
http://ul.to/ssunme60
http://ul.to/sppslffe
http://ul.to/7v73hnin
http://ul.to/j0yp8v57
http://ul.to/1cfyonuj
http://ul.to/o9nswzn5