Captain Marvel v2 1989 1994 Complete Comics l 32 MB
English | CBZ and CBR | 2 Issues
Captain Marvel v2 #1-2
Publisher: Marvel
Publication Date: November 1989 and February 1994
Writers: Dwayne McDuffie (#1-2) and Dwight D. Coye (#2)
Penciler: Mark Bright
Inkers: Stan Drake and Frank Bolle (#1); Dennis Jensen, Barb Kaalberg, and Mark McKeena (#2)
Colorists: Paul Becton (#1) and Carlos Lopez (#2)
Letterers: Ken Lopez (#1); Brad Joyce and Loretta Krol (#2)
Cover Artists: Mark Bright and Paul Becton (#1); Mark Bright (#2)
Monica Rambeau is the new Captain Marvel.
Captain Marvel v2 #1
Following her departure from the Avengers due to the loss of her powers, Monica decides to join the marines. It is here, as their captain, that she encounters the villain Powderkeg.
During their scuffle, it is revealed he is working for a South American crime lord who has also enlisted the aid of Moonstone.
As he powers begin to re-manifest themselves as variations on what she's used to, it becomes both a race against time and a re-learning of her powers.
Captain Marvel v2 #2
After stumbling across a hate crime, Monica is recruited by Special Agent Derrek Freeman to investigate a series of attacks on the campus of E.S.U.
It is here she learns from Rocket Racer that it has ties to both the Sons of the Serpent and an accident that occurred here recently.
Monice is forced to use her powers in order to defeat the Sons of the Serpent and a Neo Nazi "skinhead" who (due to the recent accident) before they can cause untold destruction and deaths.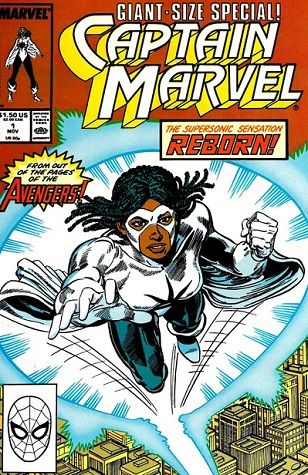 Link :
Code:
http://rg.to/file/71caee2e348c99b5c4675272ea54c65f/Captain_Marvel_v2_(1989).rar.html