Legionnaires Three 1986 Complete Comics l 239 MB
English | CBZ | 4 Issues
Legionnaires Three #1-4
Publisher: DC Comics
Publication Date: February - May 1986
Writer: Keith Giffen and Mindy Newell
Penciller: Ernie Colon
Inker: Karl Kesel
Colorist: Carl Gafford
Letterer: John Costanza
Cover: Ernie Colon and Karl Kesel
Legionnaires Three #1
Cosmic Boy visits Lightning Lad and Saturn Girl at their home. The Time Trapper sends some of his agents to kidnap Lightning Lad and Saturn Girl's son and they succeed. The Time Trapper leaves a note saying that they are not allowed to ask for help from the other Legion of Super-Heroes...this battle is between those three and the Time Trapper himself.
Legionnaires Three #2
Saturn Girl, Cosmic Boy and Lightning Lad must use stealth and subterfuge aainst their friends and family so they can keep the kidnapping of Graym Ranzz secret, as per the instructions from the Time Keeper. The three Legion of Super-Heroes founders make their way to the Time Institute to get to the Time Trapper's lair and must also deceive Rond Vidar in the process. They arrive to the Time Trapper's domain but are laid into a trap and captured.
Legionnaires Three #3
Cosmic Boy and Saturn Girl escape from their jail cell in the Time Trapper's citadel and make their way to where Saturn Girl's infant son Graym is being held only to find that the kidnapping was a ruse.
Legionnaires Three #4
The Time Trapper attempts to break Lightning Lad through psychological torture. When that fails the three founders and the kidnapped son are abruptly returned home.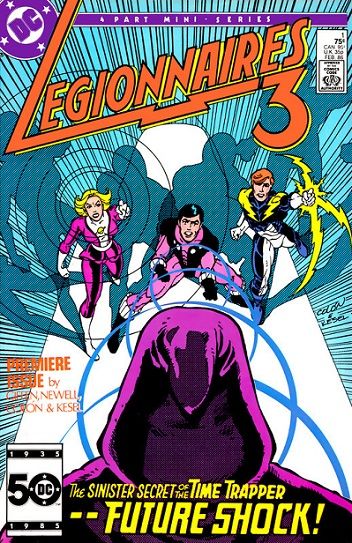 Link :
Code:
http://rg.to/file/d87fa2756815c9130ebe1edbe0ed74c6/Legionnaires_Three_(1986).part1.rar.html
http://rg.to/file/b65ff4757ab312e30c510d16d37f598e/Legionnaires_Three_(1986).part2.rar.html
http://rg.to/file/8bf96d242a5b55ae3ad3de168aaab51e/Legionnaires_Three_(1986).part3.rar.html