Boris Pocus (JaySankey) Extremely Mental
Format : AVI
Size : 937 Mb
Genre : eLearning Magic
Includes a special booklet featuring 5 brand new effects from Boris!
The booklet "Five Very Strong Effects To Scare People Plenty By The Great Boris Pocus" includes 'The Spirit of the Dairy Mother, 'Dark, Small and Numerous,' 'Numbers Don't Lie (To Boris'), 'I Crush Your Mind Now,' and 'Hypnotizing Imbeciles.' Inspired mentalism with dairy creamers, pepper shakers, playing cards, coins and pop can tabs!
Learn 21 lethal, practical and direct mentalist effects with clock faces, photographs, playing cards, billets, business cards, coins, locks, keys, pay envelopes, plastic creamers and more!
And thanks to Boris' totally unique (and completely over the top performance style) you are guaranteed to learn a ton of great mentalism while laughing like crazy!
Over 2 hours long, the DVD also includes intimate interview segments during which Boris shares his unique views on predicting the future, reading minds, ESP, fortune tellers, nurturing a mental state, the importance of the performer's voice, and more!
Contents Include:
Perfect Timing: Predict a freely selected time of day, down to the minute!
Mona Lisa: Control a spectator to perfectly arrange pieces of the classic painting!
Lottery: A premonition of five freely chosen cards and their order!
A Very Good Year: The date on a borrowed coin matches the date on your own coin!
Echo: Demonstrate your ability to create a "mental echo" between yourself and a spectator
Undeclared Income: Divine the mathematical total of a handful of borrowed change!
Color Blind: Mentally 'guide' someone to find their own favorite color from many choices!
Speechless: Predict virtually any object someone is thinking of!
True Believer: A spectator who 'truly believes' finds the one key to unlock a lock!
Facsimile: Learn to sense every detail of a borrowed business card!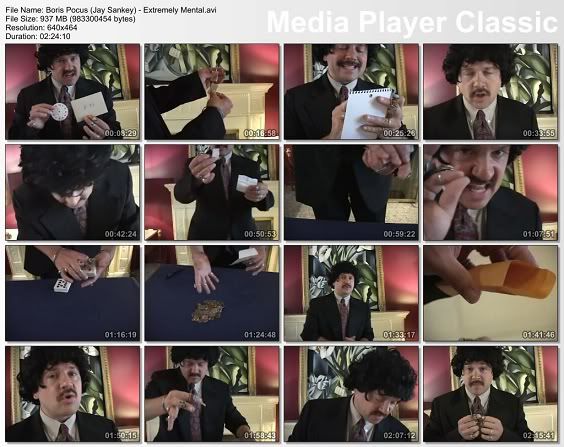 Link :
Code:
http://rg.to/file/55ade54e2e625e9d758d35a70d71d011/Boris_Pocus_(JaySankey)_Extremely_Mental.part01.rar.html
http://rg.to/file/af0760e05594da203a01db06bb5266d3/Boris_Pocus_(JaySankey)_Extremely_Mental.part02.rar.html
http://rg.to/file/3d716c0490bf098e9d8082eaf6861ad5/Boris_Pocus_(JaySankey)_Extremely_Mental.part03.rar.html
http://rg.to/file/51b73660fd2bad68c3f80b46b088bddb/Boris_Pocus_(JaySankey)_Extremely_Mental.part04.rar.html
http://rg.to/file/79aea79b68ec62674be25a40567b0e5e/Boris_Pocus_(JaySankey)_Extremely_Mental.part05.rar.html
http://rg.to/file/f34fd12ca9ba9cdcd66d76ab45548cc0/Boris_Pocus_(JaySankey)_Extremely_Mental.part06.rar.html
http://rg.to/file/9e3a60da61541e233de40bbcd20fab8b/Boris_Pocus_(JaySankey)_Extremely_Mental.part07.rar.html
http://rg.to/file/2b945e812f7f8b9717ab83bfaf719a46/Boris_Pocus_(JaySankey)_Extremely_Mental.part08.rar.html
http://rg.to/file/9e9895406f9591d938c7a39fe9e2e4ae/Boris_Pocus_(JaySankey)_Extremely_Mental.part09.rar.html
http://rg.to/file/06498717d491fd03fa7b012813365bdd/Boris_Pocus_(JaySankey)_Extremely_Mental.part10.rar.html