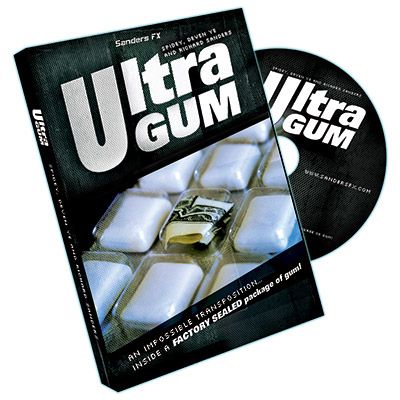 Ultra Gum (2011) by Divena Yee and Richard Sanders
ENGLISH | 720x480 | VOB | 29.97fps 5654kbps | Pcm 1536kbps | 4.35 GB
Simply stunning effects from Spaydi, Divena Yee and Richard Sanders
Impossible rearrangement between borrowed from the viewer's banknotes and factory-sealed gum!
Corner taken from the audience slowly torn banknotes.
Corner is rubbed between the fingers, where he very slowly and ominously disappears! You are clean, no hidden pockets, knots . Corner simply disappeared!
The spectator opens the packet of chewing gum, which was laid on the table during the presentation. It may even be in the hands of the viewer.
Miraculously, within one of the branches of an unopened package is visible corner of monetary bills!
No cracks, cuts or impulses or a transparent plastic, or on the foil.
It is impossible to this day!
The only way to get it open corner bills sealed with foil, which makes the spectator himself, and discovers that the corner was in the sealed package is part of his notes, from which the area and had recently been divorced for a few seconds ago!
This amazing concept allows the disappearance, movement, appearance, and more!
Link :
Code:
http://rg.to/file/e5462bab4d5fec4a9d134f4d763e7c94/[Tuts_]_JavaScript_Fundamentals.part1.rar.html
http://rg.to/file/6ff96ab70c24925f1d6cdcddf6c0df8a/[Tuts_]_JavaScript_Fundamentals.part2.rar.html
http://rg.to/file/dc9ebfd8cd34b686064100498b22205c/[Tuts_]_JavaScript_Fundamentals.part3.rar.html
http://rg.to/file/aaf499ebed33a78d1891fadb1476a58c/[Tuts_]_JavaScript_Fundamentals.part4.rar.html
http://rg.to/file/97bf8f9fd5e1bb775cfc6a14da93604a/[Tuts_]_JavaScript_Fundamentals.part5.rar.html
http://rg.to/file/c5c102bc44dfcb4200bdbeb5575efd84/[Tuts_]_JavaScript_Fundamentals.part6.rar.html