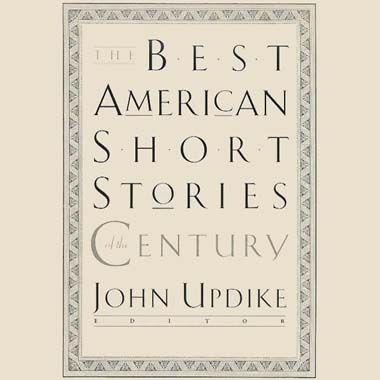 The Best American Short Stories Of The Century Audiobooks l 471 MB
Read by . . : John Updike, Tim O'Brien, Rosellen Brown, Lorrie Moore, George Plimpton, others
Publisher . : Houghton Mifflin (2000) #6-98125 (also Mariner Books)
ISBN . . . .: ISBN-10 0618093206 ISBN-13: 9780618093205
Format . . .: MP3. 29 tracks, 470 MB (note: info.txt file incorrect here)
Bitrate . . : ~85 kbps (iTunes 9, VBR, Mono, 44.1 kHz)
Source . . .: 10 CDs (12.7 hours)
Genre . . . : Fiction, Short stories, Literary Collections
Unabridged .: Unabridged
John Updike has selected enduring stories from the eighty-four annual volumes of THE BEST AMERICAN SHORT STORIES, and the result is "a spectacular tapestry of fictional achievement". This extraordinary collection features a wide variety of contemporary writers reading classics of the genre, along with authors reading from their own work. Containing twenty-two unabridged stories in all, the expanded CD audio edition includes a new story from THE BEST AMERICAN SHORT STORIES 1999 to round out the century.
Author Title Reader
Sherwood Anderson "The Other Woman" John Updike
Catherine Ann Porter "Theft" Jill McCorkle
F. Scott Fitzgerald "Crazy Sunday" George Plimpton
James Alan McPherson "Gold Coast" -the author
Jean Stafford "The Interior Castle" Mary Gordon
Bernard Malamud "The German Refugee" Alan Cheuse
Cynthia Ozick "The Shawl" -the author
Roseleen Brown "How to Win" -the author
Thom Jones "I Want to Live!" -the author
Gish Jen "Birthmates" -the author
Grace Stone Coates "Wild Plumbs" Ashley Warlick
Dorothy Parker "Here We Are" Meg Wolitzer
Robert Penn Warren "Christmas Gift" Christopher Tilghman
Eudora Welty "The Hitch-Hikers" Jill McCorkle
E. B. White "The Second Tree from the Corner" Donald Hall
John Updike "Gesturing" -the author
Donald Barthelme "A City of Churches" Rick Moody
Tim O'Brian "The Things They Carried" -the author
Raymond Carver "Where I'm Calling From" Charles Baxter
Lorrie Moore "You're Ugly Too" -the author
Carolyn Ferrell "Proper Library" -the author
Pam Houston "The Best Girlfriend You Never Had" -the author
Nicely tagged and labeled, original CD tracks, cover scan included.
Link :
Code:
http://rg.to/file/f03ccb17c2d3503e585c898c3fe6f20d/The_Best_American_Short_Stories_Of_The_Century.part1.rar.html
http://rg.to/file/1f060a9e7610b7e7fa6fe7941254d57d/The_Best_American_Short_Stories_Of_The_Century.part2.rar.html
http://rg.to/file/94cc99dc0752c46b5db34741fcfe4e4f/The_Best_American_Short_Stories_Of_The_Century.part3.rar.html
http://rg.to/file/930b1859679cd03789b0d0fb2061fd4d/The_Best_American_Short_Stories_Of_The_Century.part4.rar.html
http://rg.to/file/fa15d91fedd1980d19a1b072d75f9806/The_Best_American_Short_Stories_Of_The_Century.part5.rar.html