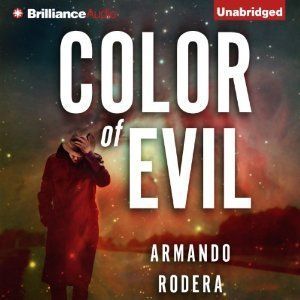 Armando Rodera - Color of Evil
Unabridged AudioBook | 2014 | Genre: Crime/Thriller | English | ASIN: B00GUU926C | M4B 64Kb | Length: 12 hrs and 56 mins | 352.66 MB

When the daughter of a prominent politician and her boyfriend disappear, officials suspect foul play. Seasoned inspector Francisco Bermejo and rookie brainiac Pablo Roncero team up to investigate, but their hope for an open-and-shut case quickly crumbles. They are on the trail of a serial killer - one whose motivations are as mysterious as the horrific, elaborate tableaus he leaves behind as clues.
Download Link
Code:
http://rapidgator.net/file/49bb4d0b28ce6e38438515d88ffe13fc/Color.of.Evil.part1.rar.html
http://rapidgator.net/file/7502b95bfd09206a13fa6f9898b9f573/Color.of.Evil.part2.rar.html
http://rapidgator.net/file/2406763626c2d2bfb0988440d66b9bfd/Color.of.Evil.part3.rar.html
http://rapidgator.net/file/cc0ac30c6aa48262de70cf4c417dabc4/Color.of.Evil.part4.rar.html
Code:
http://uploaded.net/file/tmwsijjt/Color.of.Evil.part1.rar
http://uploaded.net/file/scemzztl/Color.of.Evil.part2.rar
http://uploaded.net/file/jk93785m/Color.of.Evil.part3.rar
http://uploaded.net/file/z13f91yt/Color.of.Evil.part4.rar