Spray Paint your own car Tutorial l 604 MB
The Instructor takes you through an all over paint job from start to finish, with emphasis on the detail and safety. Many time and money saving tips are revealed and explained in this 70 minute DVD, making it a valuable tool for the first time painter as well as the experienced professional.
70 minutes running time:
Safety precautions & prevention
Introduction to spray painting
Inspection
Repair
Primers & priming
Block sanding
Masking
Spray gun selection
Spray gun technique
Application of base coat
Application of clear coat (Lacquer)
Lots of pro tips & tricks
Equipment that you will need
Planning & preparation
Fluid tips explained
Spray gun setup
Spray gun controls
Cleaning & stripping down spray gun before & after use
Locating & identifying damage
Sanding
The two rag method
Masking for primer
Reverse taping methods
Mixing paint & ratio's
Shelf & pot life of paints
Guide coats
Blocking for final finish
X blocking technique
Final sanding
Tri fold sanding
Fillers & filling
Removing trim
Preparing spray booth
Spray gun controls & using correctly
Overlapping paint
Spraying Technique
Where to spray first, leapfrogging method
Sealants & sealing coats
Applying basecoat
Lacquer & clear coat application
Removing masking
Dealing with imperfections
Nibbing
Buffing
Compounding
Polishing
Colour Sanding
This DVD is a step by step instructional video that covers every stage of a base coat/clear coat start to finish. You also get detailed procedures and trade secrets revealed.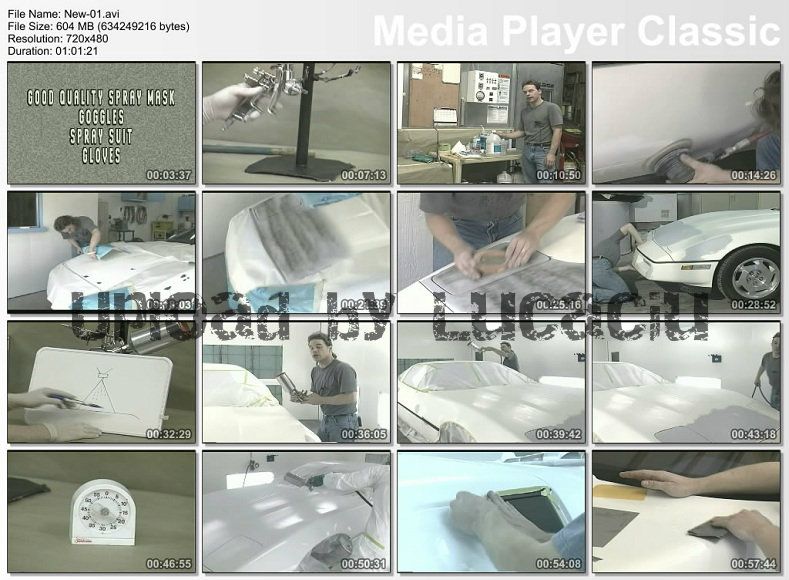 Link :
Code:
http://ul.to/4t8t6n3b
http://ul.to/jyzk3l91
http://ul.to/qsdwzqbj
http://ul.to/kivgx5j4
http://ul.to/p2mqdy90
http://ul.to/ad7o3wg8
http://ul.to/qw9of3cs