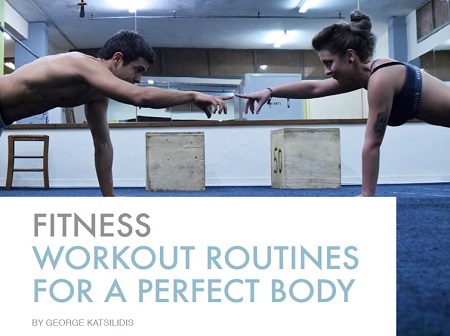 George Katsilidis - Fitness - Workout Exercises for Fat Loss


SIZE: 8+ GB
Course Summary
Over 30% of the population on the earth suffer from an unhealthy sedentary lifestyle
which is linked to various diseases like heart attack, cancer as well as many other
problems of the daily life.This physical inactivity causes a big percentage of deaths
every year.
This course is designed to take you away from this unhealthy lifestyle and transform
your body into fitness example for the people around you.
Build a strong and ripped body and stay throughout your life with this modern training method.
-With this course you will:
-Make every part of your body strong and ripped
-Lose belly fat
-Be flexible and reduce stress
-Increase your metabolism and your energy
-Grow your muscle mass
-Be healthy and happy in your life
-Train maximum 1 hour everyday
-Build ripped abs
-Improve your vertical jump
-Gain reactive strength (plyometric strength)
-Gain pure power with isometric exercises
A stronger and ripped body in one month
It is possible with this course to transform your body in one month if you follow correctly every workout routine. You will notice in yourself the first results after little time of following this course. You will feel stronger healthier and you will feel the first pounds missing of your body.
Overview
More than 6 hours of content, this course is a complete training method consisting by 6 sections (each one is a training day) and 21 lectures. In this course you will find cardio routines that will help you to lose belly fat as fast as possible and reduce your weight.
Also transform your body and make stronger every muscle group. Build ripped abs with the powerful abs workout program and create bigger muscles with a special workout mix of bodyweight exercises. Although I'm going to show you the best way to create an exemplar upper body.
It is all about training 1 hour everyday. My teacher in university reminded us every morning in the class his favorite phrase : "always remember that a strong body can be specified by the strength of the shoulders and legs". After many years I realized what this phrase deeply means and how my teacher was right. Today I have the chance to share with you one of the most powerful leg workouts. The plyometric routine that we have designed represents a modern training method to increase the reactive strength of your legs , improve your jumping technique and your vertical jump.
Apart from plyometrics in this course you will learn some basic isometric exercises to gain pure power. Isometric are static exercises that provide you muscle strength without building muscle bulk.
Finally stretching is one of the most important parts of training. Above the flexibility that offers, it can be a significant factor of injury reduction as well as stress elimination. Generally this course is the way to make your life better by offering health and happiness, through a strong and beautiful body. Take care of your body, it's the only place you have to live.
See you in the course!
-George Katsilidis
Homepage
Zitat:https://www.udemy.com/course/fitness-wor...fect-body/
Screenshots
Link Download
Download Via Fikper
Zitat:https://fikper.com/yY6BUTEFVq/GeorgeKats...part01.rar
https://fikper.com/BwaCX8o66S/GeorgeKats...part02.rar
https://fikper.com/P54XiiQDnq/GeorgeKats...part03.rar
https://fikper.com/a45nzf1tRV/GeorgeKats...part04.rar
https://fikper.com/esr0bKWtlA/GeorgeKats...part05.rar
https://fikper.com/bkWZTlN1Ld/GeorgeKats...part06.rar
https://fikper.com/ATQXVAcPYz/GeorgeKats...part07.rar
https://fikper.com/fxljsgiBUk/GeorgeKats...part08.rar
https://fikper.com/yUHH6kxf3J/GeorgeKats...part09.rar
Download Via Rapidgator
Zitat:https://rapidgator.net/folder/7061920/Ge...tLoss.html
Extract files with WinRar 5 or Latest !