Learn & Master Drums (12 DVDs, 5 CDs, Lesson Book)
DVD-Rip (12 DVDs) | AVI | XviD MPEG4 @ 1.5 Mbit/s | 720x480 | MP3 Stereo @ 160 Kbit/s 48 KHz | 12.25 GB
Genre: Learning Drums, All Music Styles, Instructional | Label: Legacy Learning Systems | Language: English | Jam-Along CDs & PDF Included
"Learn and Master" is award-winning multi-media series, offering a comprehensive home learning system, progressing from beginner to advanced levels of skill and expertise. With professional instruction in an easy-to-use DVD-based format along with play-along CDs, an instruction book, and online support, this package will guide aspiring musicians and dancers every step of the way. Until now, this product was only available directly from the publisher. This is the first time it will be available through stores. Attractive packaging and a great value for amount of content make this a very attractive product. "Learn and Master Drums" - features 12 DVDs, 5 Jam - along CDs and 100 and more page lesson book.
Learn & Master Drums is more than just a cursory course to teach the elementary skills of playing drums. If your goal and dream is to master all facets of the drums to become an expert drummer, then this course is for you. You?ll have everything you need ? expert teaching, hundreds of practice exercises, benchmarks for improving, and numerous popular songs to play along and improvise over ? to bring your dream to reality.
Learn & Master Drums is by far the world?s most complete video instruction course for learning to play the drums. Designed to guide you from the very basics of setting up the drumset to expert playing techniques, Learn & Master Drums is the only instructional tool you?ll need ? even if you?re sitting down to the drumset for the very first time. Learn & Master Drums is designed primarily for young adults on. Unlike some courses or private instruction, you?ll begin playing popular songs right away and then develop your skills with a simple step-by-step progression. Learn & Master Drums consists of 12 DVDs, 5 play-along CDs and a 100+ page lesson book, all crammed with in-depth instruction, clear demonstrations, and popular songs you already know.
You also get full access to our online resource center where Dann Sherrill will answer your questions, where you can post your profile, track your progress, chat with other students, and download all kinds of extra drums resources.
The Learn & Master Drums course includes:
Video Demonstration
The twelve DVDs included in Learn & Master Drums are the heart of the course. Each lesson is clearly explained and demonstrated, so you know exactly what and how to practice. Because the instruction is sequential, you?ll feel like you?re learning and progressing on the drumset with every lesson. The first half of the course builds on previous lessons, providing you with the foundational knowledge of the drums you need. Then the second half offers various drumming styles and techniques of all skill levels, so you can choose your individual interests to focus your practice efforts. And because it's from Legacy Learning Systems, you know the training quality is of the highest caliber.
Printed Materials
No one wants to practice with a video all of the time! The Learn & Master Drums lesson book contains all of the songs and exercises demonstrated in the video lessons so you can continue practicing at your own pace for as long as you need before moving on to the next lesson. You?ll also find clear explanations of the content and benchmarks for learning and progressing in your drumming skills.
Play-Along CDs
Here?s where the fun begins! These five CDs allow you to play along with an actual band, using the very same songs you?ll be learning in your lessons. There?s no better way to learn than by playing, and there?s not a better way to play than drumming with a band. You?ll be amazed at how much fun these CDs make your practice time! Your friends and family will be impressed, too, at how soon you are playing like a pro.
Professional Instruction
Once again, Legacy Learning Systems offers a rare opportunity to study from a professional. Our instructor for Learn & Master Drums is Dann Sherrill, an accomplished drummer and percussionist. Mr. Sherrill is not only a truly masterful player with a very impressive bio, but also an incredibly talented teacher and communicator. You won?t find a better drums instructor anywhere, and we are honored to have him as part of our team.
Play Along CDs:
CD 1 - Blues & Early Rock 1
CD 2 - Blues & Early Rock 2
CD 3 - Basic Rock, 60's Rock & Modern Rock
CD 4 - Soul and R&B
CD 5 - Soul and R&B, Jazz & Brazilian
DVD Lessons:
Introduction ? How to Use This Course
1) Starting Off Right
Playing the Bass Drum, Heel Down Position, Heel Up Position, Bass Drum Exercises, Setting Up the Snare Drum, Proper Hand Movement, Gripping the Drumstick, Developing a Rebounding Stroke, Basic Rebound Strokes
2) Basics of the Beat
Introduction to the Hi-Hat, Hi-Hat Exercises, Playing the Bass Drum and Hi-Hat Together, Adding the Snare Drum, The Mother of All Beats, Subdividing the Beat: Quarters, 8ths and 16ths, Alternating Sixteenth Notes, The Dance Beat
3) Musical Notation
The Basics of Reading Music, Clefs, Notes, and Rests, Time Signatures, The Note Tree, Dotted Notes, Musical Terms, Straight vs. Swing Beats, Music Reading Using the Reading Pages
4) The Ride Cymbal
Ride Cymbal Technique, Drum Notation, Coordination with Bass, Snare and Hi-Hat, Quarter Note Ride Cymbal Exercises, Eighth Note Ride Cymbal Exercises, Playing the Bell of the Ride Cymbal
5) Expanding on the Basics
Snare Alternating 16th Notes, Alternating 16th Note Snare Drum Exercises, Dynamics in Music, Accents, Accented Alternating 16th Note Exercises, 16ths with Bass Drum and Hi-Hat Exercises, Variations on the Bo Diddley Beat
6) Blues & Shuffles
Blues & Shuffle Basics, Blues Shuffle Beats, 12/8 Blues Beats, Blues Dynamics
7) Basic Rock Beats
Introduction to Rock Drumming, Basic Rock Beats, The Money Beat, 2 Bar Rock Grooves, Early Rock Beats
8) The Jazz Ride & Brushes
The Jazz Ride Pattern, Four Positions of the Jazz Ride, Playing with Brushes
9) Jazz Coordination
Jazz Coordination & Independence, Two Way Jazz Coordination, Charleston Rhythm, Three Way Jazz Coordination, Three Bar Exercises, Triplets Between Bass & Snare, Four Way Jazz Coordination, Jazz Coordination Using the Reading Pages
10) Rudiments
Rudiments, Grace Notes, Ruffs and Drags, Flams, Paradiddles, Swiss Rudiments, Applying Rudiments to the Drumset
11) Rolls
Single Stroke Roll, Closed Rolls, Open Rolls, Rolls Exercises
12) Moeller Technique
The Fundamental Moeller Strokes: the Downstroke, the Tap and the Upstroke, Moeller Technique Practice, Moeller Triplet Exercises, Moeller Sixteenth Note Exercises
13) Drum Fills
Introduction to Fills, Tips for Playing Fills, Developing Coordination, Playing in Shapes, Three Over Two Phrases, Practical Drum Fills
14) Advanced Rock Coordination
Rock Systems, Systems with Hi-Hat Eighth Notes, Snare Backbeats & Melody on Bass Drum, Advanced Rock Systems
15) Advanced Sticking & Linear Drumming
Advanced Sticking, Type A Stickings, Type A Stickings in 16th Notes Exercises, Type A Stickings in Triplets Exercises,Type B Stickings, Type C Stickings, Linear Drumming, Linear Drumming Sequence
16) Time, Groove & Pocket
Time, Groove & Pocket, Improving Your Time Practice Ideas, The Note Tree Exercise, The Jazz Ride Meditation, The Charleston Warm Down, The 20 Minute Groove, Making the Most of Your Metronome
17) Double Bass Drumming
Double Bass Drum Technique, Alternating Strokes, Latin Variations, Enhanced Rock Grooves, Sixteenth Note Variations, Bass Drum Reinforcement, Double Bass Fills, Double Bass Shuffles, Latin Double Bass Grooves
18) New Orleans and R & B Drumming
New Orleans Drumming, Second Line & New Orleans Beats, R & B Beats, Motown Beats, Memphis Rock Beats, Funk Beats, Modern Beats, Half Time Grooves, Hip Hop Beats
19) Latin, Brazilian & Reggae Drumming
Latin Drumming, Clave, The 6/8 and Cut Time Relationship, Rumba Clave, Son Clave, The Tumbao, Ponche, Bombo Note & the Cascara Rhythm, Cha-Cha, Songo, Brazilian Music, Samba, Reggae Beats
20) Song Structure & Musicality
Song Structure, Jazz Song Form, Writing a Drum Chart, Drum Figures, Drum Set Ups
21) Soloing
Free Form Soloing, Soloing Over Song Form,Working Out a Solo vs. Improvising, Soloing Over an Ostinato, Exploring Alternative Sounds, Trading Fours in Jazz
22) Beyond Drumming Technique
Left-Right-Right Running Pattern, The Never-Ending Charleston, The Eight Combinations
Bonus Disc:
-How a Drum Is Made
-How to Tune a Drum
-Setting Up the Drumset
-Drumsticks
-Warm Up Stretching Exercises
-Bass Drum Technique Workshop
-Hi-Hat Technique Workshop
-Thanks and Credits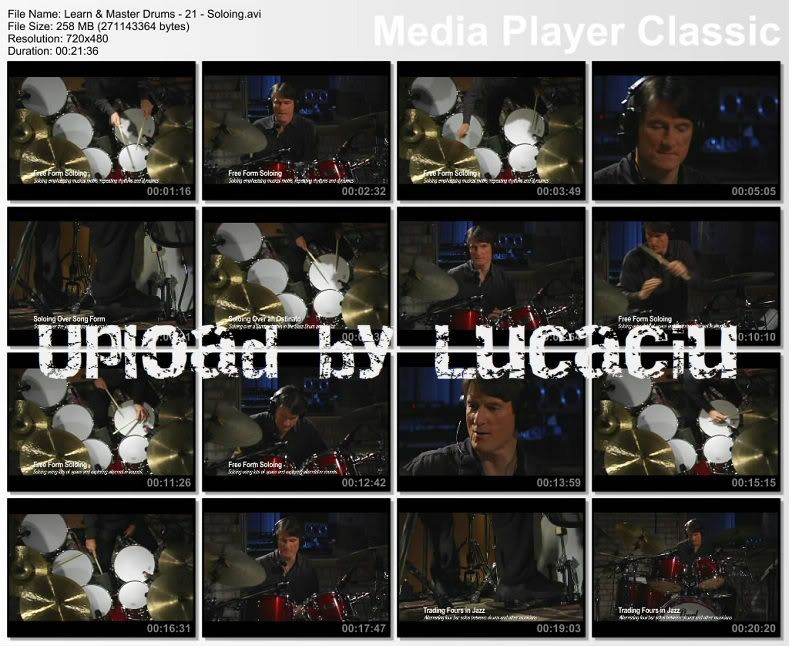 Link :
Code:
http://ul.to/5zwssism
http://ul.to/bpbrtaou
http://ul.to/4zr63fch
http://ul.to/32ruk6xb
http://ul.to/q6czhix1
http://ul.to/6g49lxap
http://ul.to/wkr74hy4
http://ul.to/wy1epzz0
http://ul.to/e8nd9j9q
http://ul.to/86ou4tnt
http://ul.to/lb5dognm
http://ul.to/oi72k73l
http://ul.to/nfvm5lcj