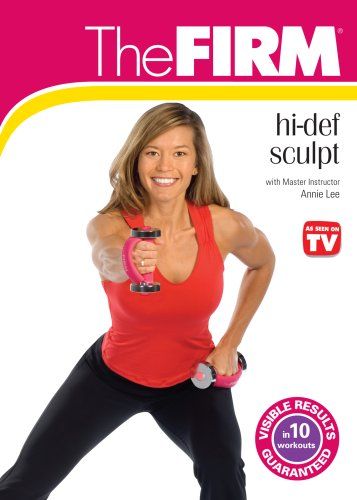 The Firm Total Body TransFIRMation Hi-Def Sculpt (2008) l 3.99 GiB
hi-def sculpt with The FIRM Master Instructor Annie Lee provides the perfect introduction to The FIRM body shaping exercises. Not wasting a minute of your time, this workout is designed to add shape and definition to your figure and rev up your metabolism so you burn calories around the clock. And, once you have mastered the moves you can increase the resistance to get even more results!
DVD Includes:
45-minute Complete Workout
25-minute Express Workout
Optional Equipment: The FIRM Cardioweights
The FIRM Methodology
For more than 25 years The FIRM has combined weight training with cardio in a unique, effective way to help you develop the body you ve always wanted. The FIRM method maximizes your ability to sculpt and shape your entire body, burning up to three times more fat than cardio alone.
REAL WOMEN. REAL RESULTS. GUARANTEED.
Special Features:
Learn & Burn FIRM Moves Tutorial
New FIRM Workout Trailers
Includes Spanish Audio Tracks
Link :
Code:
http://rg.to/file/41055fb572657fff6204eed625780479/The_Firm_Total_Body_TransFIRMation_-_HI-DEF_SCULPT.part02.rar.html
http://rg.to/file/c1ab9f3c2438b9aeb0bda08e1198f01d/The_Firm_Total_Body_TransFIRMation_-_HI-DEF_SCULPT.part01.rar.html
http://rg.to/file/c08109c591ba86eac697b518d91c16d4/The_Firm_Total_Body_TransFIRMation_-_HI-DEF_SCULPT.part03.rar.html
http://rg.to/file/a6b3d709e0a528be51091ea9dfc08ad5/The_Firm_Total_Body_TransFIRMation_-_HI-DEF_SCULPT.part04.rar.html
http://rg.to/file/d8719f6c07f5497c07b85553bf4786a5/The_Firm_Total_Body_TransFIRMation_-_HI-DEF_SCULPT.part05.rar.html
http://rg.to/file/6fce48d37244dfb8ed46a8a022e8f116/The_Firm_Total_Body_TransFIRMation_-_HI-DEF_SCULPT.part06.rar.html
http://rg.to/file/5e6ea0f4a42fb42924b5715d69f14c75/The_Firm_Total_Body_TransFIRMation_-_HI-DEF_SCULPT.part07.rar.html
http://rg.to/file/282035093c6c5d58df111275e8beb9f7/The_Firm_Total_Body_TransFIRMation_-_HI-DEF_SCULPT.part08.rar.html
http://rg.to/file/178d3cb78462140b9f4255073cdaec4d/The_Firm_Total_Body_TransFIRMation_-_HI-DEF_SCULPT.part09.rar.html