Phlearn Photoshop Tutorial - A Dark Force l 900 MB
A long time ago in a galaxy far away... Do you ever imagine what other worlds might look like? Where do the inhabitants live? How do they live? What other creatures are there?
Follow along with Phlearn and build an entire civilization from scratch with this incredible Compositing Photoshop Tutorial - A Dark Force! It's a very in-depth tutorial and it's a whole lot of fun.
Photoshop expert Aar-on Nace teaches you how to composite over 20 images to create a final image that pushes your idea of reality. This special 4:10 Hr long Photoshop tutorial covers compositing, coloring, using actions and brushes, light blending, adding planets, animals, subjects, buildings and more!
What's Included In Your Download
Complete Photoshop Tutorial - Over 4:00 Hours of Step-by-Step instruction
Lesson 01 - Intro and Building Background (1:06 HR) - Merge Backgrounds, Color Match, Add Planets, Compositing Action
Lesson 02 - Completing the Background (1:10 HR) - Create Buildings, Make Custom Brushes, Add Lights, Composite Cave, Add Sky
lesson 03 - Adding Subjects and Finishing (1:49 HR) - Composite Subjects, Create Custom Brush, Advanced Layer Mask, Light Blend, Color, Finishing Touches
Separate Lighting Instructional Videos - Including 3d lighting diagrams and explanations.
Lessons Learned - Candid style video explaining what we learned on the photo shoot.
Original Images - 24 Images Included for Practice
Custom Brushes - Retouching Brush, Organic Brush, Hair Brush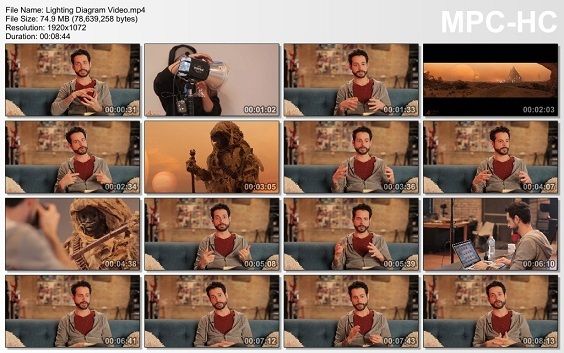 Link :
Code:
http://rg.to/file/352192275b2c247ec2effc7a6bc09829/Phlearn_Photoshop_Tutorial_-_A_Dark_Force.part01.rar.html
http://rg.to/file/f1402d4d65fc874e34f4592a8abdb8fb/Phlearn_Photoshop_Tutorial_-_A_Dark_Force.part02.rar.html
http://rg.to/file/0e25774d31caf76bc4f47409322b7c21/Phlearn_Photoshop_Tutorial_-_A_Dark_Force.part03.rar.html
http://rg.to/file/3c781e036eb4c698e6f1a3f8b0509730/Phlearn_Photoshop_Tutorial_-_A_Dark_Force.part04.rar.html
http://rg.to/file/20ba79e87c9de4d79307f44dc8fa6a9d/Phlearn_Photoshop_Tutorial_-_A_Dark_Force.part05.rar.html
http://rg.to/file/69c4a1e968c77a0a0ceb6d9ecc4b5f6a/Phlearn_Photoshop_Tutorial_-_A_Dark_Force.part06.rar.html
http://rg.to/file/d4c6ebb220fe9e189863d25b0538b7d8/Phlearn_Photoshop_Tutorial_-_A_Dark_Force.part07.rar.html
http://rg.to/file/e5d3090ec330db982c5738f68e39b2f3/Phlearn_Photoshop_Tutorial_-_A_Dark_Force.part08.rar.html
http://rg.to/file/7f81ed13e880a99f3bcd724178038630/Phlearn_Photoshop_Tutorial_-_A_Dark_Force.part09.rar.html