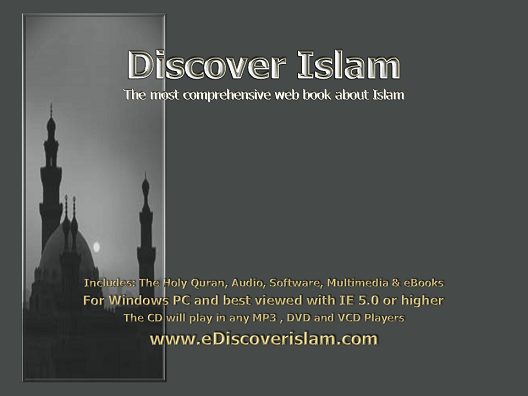 Discover Islam Web Book CD v 3.0
Size: 697 MB

A comprehensive learning guide to understanding Islam.
For Muslims and non Muslims.
If you are a Muslim or a non-Muslim searching for information on Islam or need to expand on your knowledge of Islam, this Web Book CD is the perfect resource. It is an easy way to gain knowledge about Islam from the best source conveniently compiled together into one CD. An excellent tool at your fingertips, you can learn wherever you are- on the road, at home or in the office.
The Discover Islam Web Book CD includes:
The Holy Quran (Software/e-Book): The most widely accepted translations of the Holy Quran in the English, French, Spanish, Chinese and German languages.
Over 85 Islamic Audios including Recitation & Translations of the Holy Quran and Islamic Lectures.
Over 65 Islamic e-Books to cover basic to intermediate Islamic topics.
Multimedia presentations: Learn Manner of Ablution, Learn How to Pray, etc.
Islamic Software: Holy Quran Learning and Memorizing Software, Athan Software, etc.
The Web book CD is designed for Windows PC, and the audios may be played on any mp3 compatible player. (DVD,VCD and CD/MP3 Car Audio)
Link :
Code:
http://ul.to/vzt5xptt
http://ul.to/kohvepub
http://ul.to/2pue566z
http://ul.to/g2m4mbc7
http://ul.to/0uyabzt5
http://ul.to/jogjrgin
http://ul.to/1txhdwb0